Chikugo River is a theme park!?
The Grand Park of Chikugo River is like a theme park that focuses on the "river" and "water" through out Chikugo and Yabe river basin, aiming the wide-area tourism. Avoiding the tours are one pattern and taking advantage of each local features of the basins around, the Park is divided into 11 zones. Replacing the Grand Park by "Disneyland", each zone is like as "adventure world", "fairyland" and so on. Tourists visit each zone excitingly in the hope of new stimulus. In each zone, local groups engaging in community development plan the arrival spot type tours. By networking tours planned in each zone, the diverse tourism resources of the Grand Park can be appealed. Then long-run sojourners and repeaters can be secured. To preserve the environment and culture of the basins enhances the attractiveness of the Grand Park, and hence contributes to the sustainability of the basins.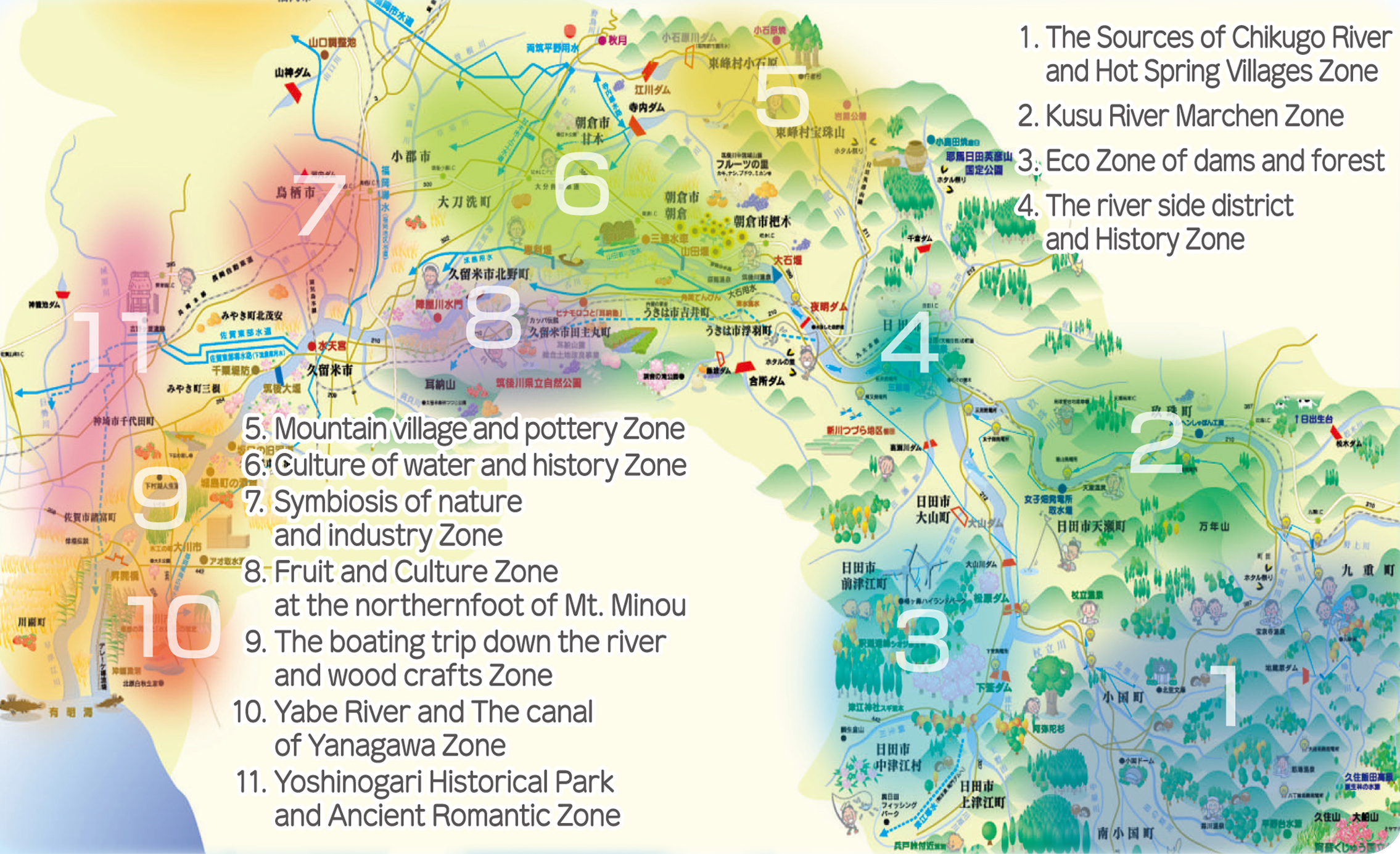 Let's go with a map!
Each place has its own characteristics, and you will surely find your favorite place. Then, visit your favorite place in different seasons. You may see a different face in spring, summer, autumn and winter.
LEAFLET <English Ver.>
01
The Sources of Chikugo River and Hot Spring Villages Zone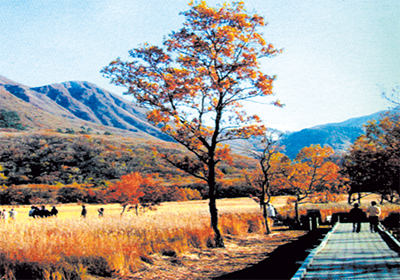 Chikugo river is divided into Oyama river and Kusu river at Hita city. Officially the total length of Chikogo River is 143km. This length is measured from the upstream of Oyama river in Minamioguni machi, where is at the foot of Kojuu mountains and Aso mountains. There are famous hot spring spots, namely as Kurokawa hot spring. You can enjoy it with wonderful nature.
02
Kusu River Marchen Zone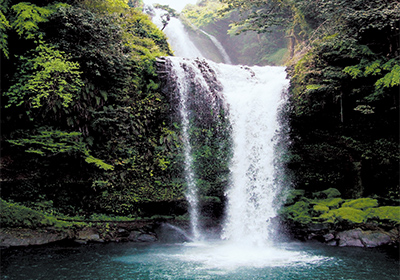 In the watershed of Kusu river, there are unique waterfalls such as "Ryumon(Dragon Gate) Falls", "Jion(Charity) Falls" and "Mikatski(Crescent Moon) Falls". You can enjoy "Miyamakirishima azalea" in spring, mountain climbing in summer, and skiing in winter. Kusu-cho is the birthplace of Takahiko Kurusima and is praised as "Andersen of Japan", the father of a fairy tale. On "Children's Day" ( May 5), "Japan Fairy Festival" is held. Many people visit from all over Japan and foreign countries.
03
Eco Zone of Dams and Forest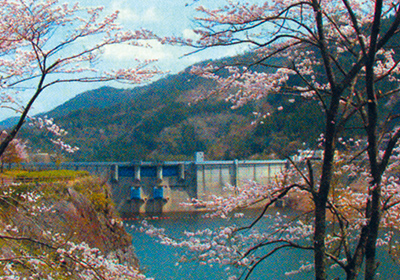 Chikugo river was often flooded and caused great damage. The damage in 1953 was particularly severe. During this period, Shimouke and Matsbara dams were planned for the purpose of flood control, however a violent opposition movement was developed against this plan, and it was called the "Hatinosu Castle Struggle". Ten years later, in 1963, the dams were completed, but the opposition triggered a rethink of the way about Japanese public works. Around the dam lakes is a forest area, and healthy forest conservation is important for securing the volume and quality of water in the dam lakes.
04
The River Side District and History Zone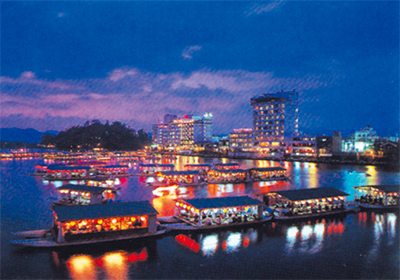 In Edo period, Hita flourished as a Tenryou, a direct governance place by Shogunate, which supervised the Kyushu. Since Meiji period, it is a trading center of the wood. The arts and cultural cultivated through years of economic wealth have been passed down along with the old streets. "Hinamatsuri" from mid-February to late-March and "Hikiyama of Gion Festival" in late-July, registered in the UNESCO's intangible cultural heritage, are especially famous. Mamed-machi surrounded with traditional buildings has been visited by literary artists from all over Japan since Edo era. Kuma-machi facing the Mikuma River (the Chikugo River is called in Hita this way) is a hot spring town where cormorant fishing is performed.
05
Mountain Village and Pottery Zone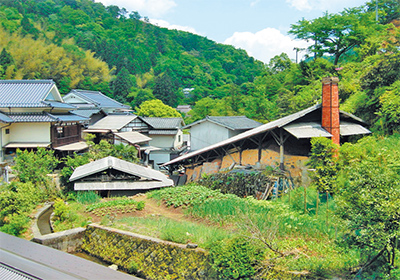 In 1596 and 1597, Toyotomi Hideyoshi expended to Korea, and at that time many potters were brought. The techniques of these potters were transmitted to and developed throughout Kyushu, and Kyushu came to be called "Kingdom of Pottery". In Koishihara, the technique has inherited under the protection of the Kuroda clan, and there are now many potteries as a pottery village. Onta porcelain was born in late Edo era under the guidance of potters in Koishihara, but still faithfully inherits the method of the time, such as crushing the soil with "Karausu". It is also famous for visits by Muneyoshi Yanagi and Bernard Reach.
06
Culture of water and History Zone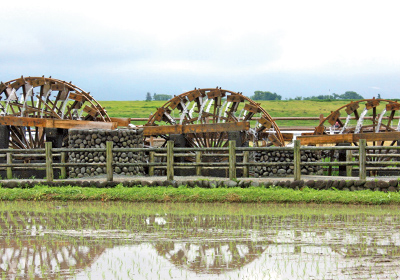 The mainstream of Chikugo River has been used as agricultural water, but until the four Chikugo weirs (Hukurono-now submerged, Ohisis, Ymada and Eri) were constructed, the warter had not be used for agriculture. The irrigation technology built by ancestors of Edo period is still being handed down. In particular, the Yamada dam still remained in the Edo period and became a model for irrigation in Afghanistan by Peshawar Society. Asakura's triple water turbine, which draws water from Yamada weir, has been used for more than 300 yaers. You can enjoy cormorant fishing at Hrazuru and Chikugogawa hot spring spots. It produces grapes, persimmons, pears, apples and strawberries, then there are many tourist farms, also are famous beautiful rice terraces. The town of Yoshii, on the left bank side of Chikugo River, is famous for being a town of white walls, lined with fine old warehouses. During the golden week in May, they become small museums and are crowded with people. The right hand side of Chikugo River is where the Akizuyki clan, a branch of Kuroda clan, was set up during the Edo period, leaving the ruins of the Akizuki castle and samurai residences. Rich water from Kosho maoutain, 889m elevation, produces own local products such as Japanese Paper, plant dyeing, Kawatake(Suizenji glue) and kuzu. The Hiratsuka-Kawazoe Ruins is a site from the middle Yayoi priod to the Kofun priod(A.D. 100~500), where you can experience the life of the Yayoi period.
07
Symbiosis of Nature and Industry Zone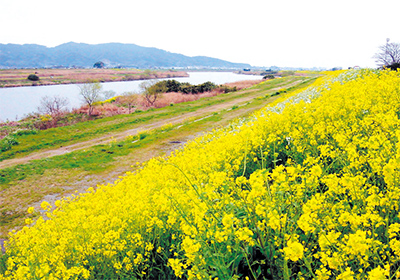 his zone is a crossroad that connects the north, south, east and west of Kyushu, and is a key point of transportation. Indaustrial parks, warehouses, and intersecting highways are modern artifacts that emphasize functionality, but the Seburi moutains behind are rich in nature. This isa zone where the thema is harmony and symbiosis between the factories and surrounding nature.
08
Fruit and Culture Zone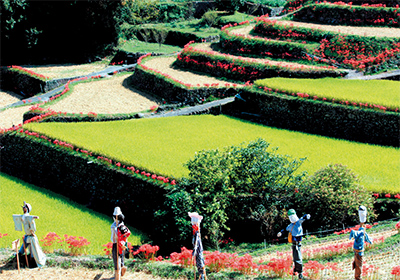 The northern foot of Mino mountains is one of Japan's leading planting areas where horticulture is thriving. Plants are planted and grown where fields and paddy fields, and they constitute a kind of unique landscape. In chikugo, there were many hazy trees, but now they are less. Nevertheless, there is a row of hazy trees in Ynagizaka, and it is entertaining people in autumn. Tanusimaru is a production area of Kyoho(large crop) grapes, and is famous for Fuyu persimmon and has many tourist farms. Kusano has preserved a cityscape that tells its bizarre history. Kurume has created many painters representing modern Japan, including Shigeru Aoki, and their works are displayed at the Kurume City Museum of Art. In addition, the land of Chikugo is also rich in traditional crafts such as Krume Kasuri.
09
The Boating Trip Down the River and Wood Crafts Zone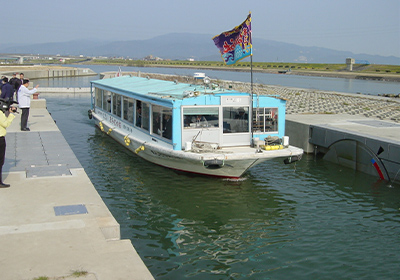 Chikugo River was once a thriving river of trip boats. Okawa at the estuary had the highest cargo transaction volume in Fukuoka Prefecture until early Showa era. Hita cedar on the upper stream was assembled on a raft and descended to Okawa, processed into boats and furniture, and is being handed over to the current woodworking industry. The Chikugo Weir, which was built to draw water to the Fukuoka metropolitan area, the southern part of Fukuoka prefecture and the eastern part of Saga prefecture, has a lock and allows boats to sail, and go down from Kurume to the Ariake Sea. The tidal range is so large that the tide extend to the Chikugo Weir. The river changes its appearance according to the tide, and the sunset on the Shoukai Bridge seen from the boat is wonderful. You can also experience woodwork in Okawa, and Okawa is the birthplace of Maso Koga.
10
Yabe River and Canal of Yanagawa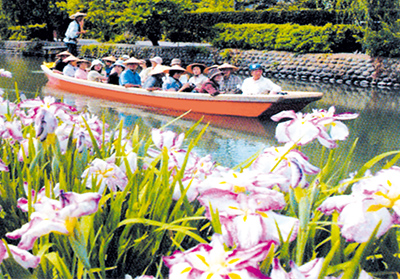 More than 800,000 people visit Yanagawa every year to enjoy the canal trip. There are four seasonal pleasures, such as Hinamatsuri and Sagemon in spring, moon watching boats in early autumn, Haksyu Fair in November and kotatsu boats in winter. It will delight the gourmet, such as steamed eel and delicacy of the Ariake Sea. Yangawa is a model that balances and integrates the environment and the economy. It also has produced many writers such as Kitahara Hakushu and Dan Kazuo. In addition, the basin of Yabe River that overflows into Yanagawa is a treasure trove of traditional craft.
11
Yoshinogari Historical Park and Ancient Romantic Zone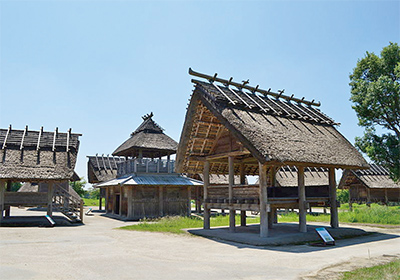 The Yoshinogari archeological site is the site of a moat settlement in the Yayoi era, one of the largest in Japan, and has been set up as a historical park with restoration such as a watchtower and a pit dwelling, so you can imagine the ancient life. It is said that Xufu, dispatched by Emperor Qin about 2,000 years ago, landed nearby in search for a medicinal herb of longevity. There is a theory that Yshinogari had descended from Xufu for generations. The area around Yoshinogari is an ancient romace.
Every tour is a great success!
The Chikugo River Marugoto River Park model tour started in 2006 and was held 98 times in 2019 (including 3 river exchange tours). In addition, the contents of the model tour conducted are published in the "Chikugogawa Shimbun", and a data base of the entire tour is created so that it can be used by travel agencies.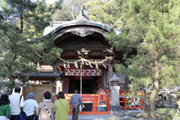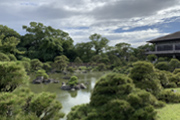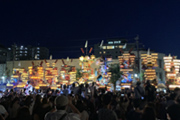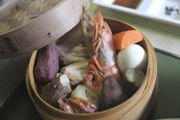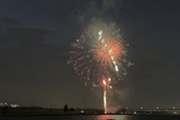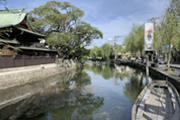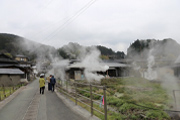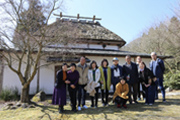 2006~2019
2019(Details)
Chikugo River Basin
Collaboration Club
The Chikugo River Collaboration Club promotes information exchange and human exchange to deepen regional cooperation in the Chikugo River Basin, contributes to the improvement of the environment and the development of cultural and industrial reconstruction in the basin area, and tourism and regional promotion through cooperation projects. It was established with the aim of achieving If you would like to know more about the entire Chikugo River River Park, please see the website of the Chikugo River Basin Club.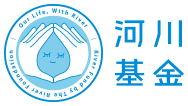 This is supported by
the River Fund
of the River Foundation.